Product Gallery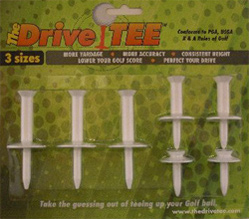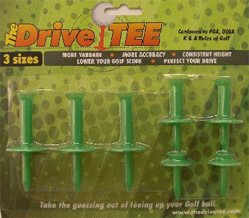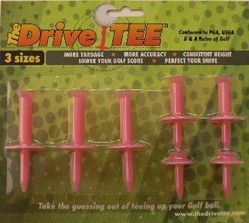 Order Now
What you will receive
Each pack contains:
(3) Driver Tees
(2) Hybrid Tees
(2) Iron Tees
Pricing per pack
$4.991-10 Packs:
$4.5011+ Packs:

+$2.98 shipping & handling to the US.
+$3.95 shipping & handling to Canada.

Shipping will take 3-14 days depending on your location.
Bulk or worldwide orders
If you want 11 or more packs or live outside of the US or Canada please contact mike@thedrivetee.com or call 631-580-7772.
Customize your tees
Do you want to print a company logo on the tees? We can set that up for you.
Contact us for pricing and details.
Purchase information
You can place an order by credit card or PayPal by clicking the Buy Now button.

Payment must be in USD currency.
After clicking Buy Now you will be forwarded to PayPal's secure transaction page to setup the payment.

You do not need a PayPal account to make a credit card transaction.
Testimonials
The Drive Tee is one of the best ways to practice and perfect your drive. The hottest new golf product in 2010.
I couldn't believe it until I tried out The Drive Tee. I took 5 strokes off my golf score. I have more control of my drive.
Gerry Smith
There is a new golf product that will help you take strokes off your golf score.

The Drive Tee, it's strong, easy to find, helps you maintain striking the golf ball in the same spot on every drive. Every golf player should try it out.
Nightlife Magazine
I wish this tee was available when I started to learn to play golf. It helped me control my drives which lowered my golf score.
Michael Hollander
This week a friend gave me one of your Drive Tees. I'm a senior and play golf five or six times a week, I love the game and although my short game is pretty good I have had trouble with my drives--that's until now.

I played 18 holes yesterday and reduced my average score by fifteen shots; thinking it was a fluke I went out this morning for nine holes and reduced my average by five. It has to be the tees, I have so much more confidence when I set up and it feels great.
Betty D Carr
I like The Drive Tee because I always hit the ball from the same height off the ground. The tees work for me!
Enrique Velasco, California
I purchased a pack of your Drive Tees and tried out the driver tee. I really love it.
Eva Wong
Do you want to post a testimonial?
Contact us
.